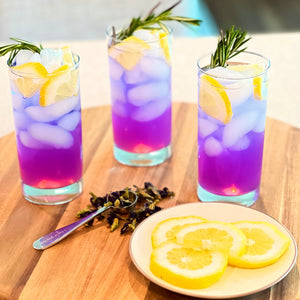 Butterfly Pea Flower Sparkling Lemonade
Treat yourself to a vibrant and refreshing sip of butterfly pea flower lemonade! This naturally-sourced delight transforms before your eyes when you add a squeeze of lemon - watch it turn from a stunning purple to a pretty pink! Plus, it's organic, so you can feel good about indulging! Our Butterfly Pea Flower Lemonade recipe will quench your thirst and amaze your guests one glass at a time!
Here's what you'll need:
4-5 tsp of our Butterfly Pea Flower tea 

4 cups of warm to hot water 

1/3 cup of sugar or to taste 

Lemon juice (you will need 1-2 tbsp per glass)

Soda water, or sparkling water of your choice 
Pieces of lemon and rosemary sprigs for garnish (Optional)
DIRECTIONS:
Heat 4 cups of water in a pot. 
Once heated add 4-5 tsp of Butterfly Pea Flower tea and steep for 5-7 minutes. (I put mine in teabags which you could find here.) 
Add 1/3 cup of sugar and set tea aside in pot or in a heat resistant pitcher to cool. Once cooled place in refrigerator for 2 hours or until it's cold. 
While the tea mixture is cooling you can wash and cut your lemon and rosemary for garnish and set aside. 
Once the tea mixture is cooled grab your desired glasses and add ice to each glass. Add as much ice as desire. 
Then add the tea mixture to about half way in each glass and then add 1-2 tbsp of lemon juice to each glass (this is when it changes color!)
Add pieces of lemon.
Then fill the glass almost to the top with soda water or sparkling water and top off with a splash of tea mixture.
Add rosemary garnish and enjoy!
Tips:
Make sure to fully cool the tea mixture before adding it to the glass with ice. If you add hot tea mixture to the glass with ice it will water it down and have less color changing effects. 
---