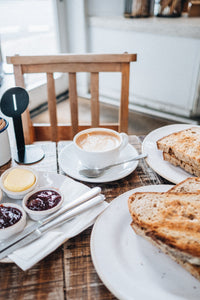 English Breakfast Latte
This is such a quick recipe that you'll wonder why you didn't try it before!  English Breakfast is one of the most popular and traditional teas. It's a blend of black tea that give such a full-bodied and robust flavor in your cup. It's commonly enjoyed with some milk and honey. English Breakfast tea is a great alternative to a morning cup of coffee.   
Here's what you will need:
1 tea bag or 1 perfect teaspoon of Truly Teas English Breakfast
6-8 oz. of milk (feel free to use any dairy substitutes)
Optional
1-2 teaspoons of Truly Teas Organic Honey (feel free to use any sweetener)
A dash of Cinnamon
DIRECTIONS
1. Turn on stove with medium heat. In a small saucepan, pour in milk and whisk until the milk froths. This takes a few minutes.
2. Once the milk froths, turn off stove. Place tea bag or infuser to the saucepan and let steep 3-5 minutes.
3. Remove tea bag or infuser. Pour the froth mixture into your cup.
4. Add optional honey and stir.
5. Lastly, add optional dash of cinnamon on top.
6. You can easily add our English Breakfast tea to your cart by clicking the link below. 
Enjoy!
---