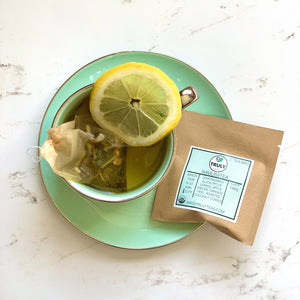 Immunitea Cold Relief
This Thursday we want to bring you a recipe that is quick and easy to make. A lot of people around the world are being effected by the COVID-19 virus and our Immunitea Cold Relief recipe will sooth a sore throat and taste delicious. 
Here's what you'll need:
1 tsp OR 1 teabag of Truly Teas Immunitea tea
1 tbs lemon juice
1 tbs of Truly Teas Organic Honey (or more depending on preference)
1 cup of hot water 
DIRECTIONS
Boil Water to 212°F.
Steep tea for 5-10 minutes in desired cup or teapot. 
Once the tea is done steeping add lemon juice and honey and enjoy! 
You can easily add our Immunitea & Organic Honey to your cart by clicking the links below.
Happy Steeping!
---