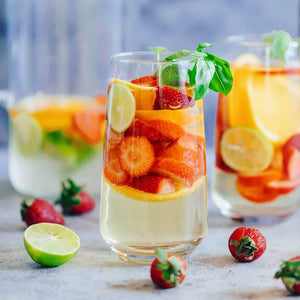 Sangria Dream Deliciousness
Tea party anyone?! Quench your thirst with this refreshing Sangria Dream recipe!
Here's what you'll need:
4 tea bags of Truly Teas Sangria Dream tea

32 oz water

1 cup water

1 cup strawberries

1 cup oranges

1/2 cup limes

1/2 cup organic raw sugar  
Optional
club soda 
You can add fruit such as: peaches, nectarines, blackberries, blueberries.
DIRECTIONS
Steep 4 tea bags of Sangria Dream in 32 oz of water, set aside, & let cool.
In a saucepan, combine water, a splash of orange juice, oranges, strawberries, limes, & sugar over medium heat.
Stir often to make sure sugar fully dissolves.
When sugar has dissolved, reduce heat to low & simmer for 20 minutes.
Remove from heat and strain to remove fruit.
Once mixture is cooled off, combine Sangria Dream brewed tea & syrup mixture topping it off with fruit garnish & a splash of club soda for a bubbly effect.
Bottoms up! 
---