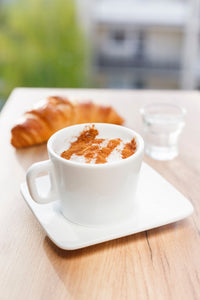 Green Chai with Orange Peel Latte
You will fall in love with this flavor! It has just the right balance of green tea, cinnamon, and cloves. 
Here's what you will need:
1 tea bag or 1 perfect teaspoon of Truly Teas Green Chai w/ Orange Peel
2 tablespoons organic milk (almond/coconut)
Optional
1-2 teaspoons of organic honey (feel free to use any sweetener)
Dash of cinnamon
1 orange slice
Whipped cream
DIRECTIONS
1. Pour 6-8 ounces of water into your pot and warm to recommended temperature & steep time. 
2. Once the water is ready, place the tea bag or infuser to the pot of and let steep 3 minutes. 
3. While waiting for your tea to steep, turn on your stove to medium heat. In a small saucepan, pour in milk and whisk until the milk froths. This takes a few minutes.
4. Once the milk froths, turn off stove.
5. Once tea is done steeping remove tea bag or infuser from the water.  Pour tea into your cup.  Then pour your frothed milk and stir.
6. If you would like a little sweetness, add honey and stir. 
7. To add more of a citrus and fruity zest, add a small slice of orange.
8. Try putting some whipped cream and a dash of cinnamon on top to give yourself a treat.
9.You can easily add our Green Chai W/Orange Peel to your cart by clicking the link below.
Tips
If your tea is bitter, the water temperature was too high or steeped too long. 
Happy Steeping! 
---