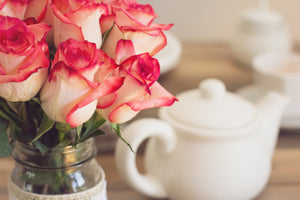 Strawberry Glow Up! Recipe
Strawberry Glow Up! is a delicious drink to enjoy hot or cold. The sweet strawberry taste delightfully blends with Glow Up! tea blend. 
Here's what you will need:
1 tea bag or 1 perfect teaspoon of Truly Teas Glow Up! tea
1 cup of filtered water
1 tablespoon Homemade Strawberry Syrup (recipe below)

1 cup water
1 cup of sugar
1/4 cup of sliced organic strawberries
DIRECTIONS
First let's make the homemade strawberry syrup recipe. In a saucepan on medium heat, mix water and sugar. Stir ingredients until the sugar dissolves.
Once the sugar has dissolved, add sliced strawberries. Let strawberries get soft and mushy. Turn off heat and strain ingredients into a cup. 
Pour 1 cup of water into a teapot and let water come to the recommended temperature. This tea steeps best when water is boiling.
Toss in loose tea, tea bag, or infuser into the teapot. Let steep for 3-5 minutes. 
Once tea has steeped, pour tea into cup with strawberry syrup. 
Drink hot or add some ice and enjoy it cold! 
Happy Steeping!
---