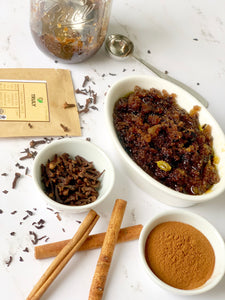 Chai Sugar Scrub
Looking for an easy fall DIY body scrub for the fall season? Not only is this DIY body scrub made with our delicious Seasonal Spice tea, but it's also all natural and completely organic! This delicious tea is only available from August-November while supplies last.  
Our chai sugar scrub is inexpensive to make & healthy for your beautiful skin. 
Here's what you'll need:
5 tps of loose Seasonal Spice tea
1 cup organic brown sugar (packed)
1 tps organic ground cinnamon 
1/2 cup organic olive oil
1 tsp organic vanilla extract 
1 tbls organic honey 
DIRECTIONS
Mix all ingredients together (Seasonal Spice tea, brown sugar, ground cinnamon, vanilla extract, & honey)
Stir all ingredients until combined and enjoy!
Tips
Store in an air tight container for up to 3 months. 
You can use avocado oil OR coconut oil just remember that coconut oil solidifies above 76°F. 
You can use less oil depending on how runny you like your sugar scrubs. 
Enjoy!
---