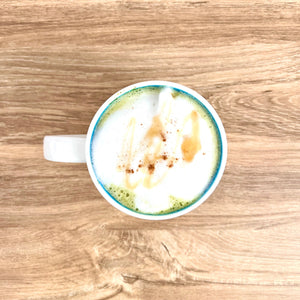 Matcha Latte
One if my favorite ways to brew up our Ceremonial Green Match is by making a delicious warm match latte! If you've had matcha you're going to love this super easy recipe that you can make right at home!
Here's what you'll need:
1 - 1 1/2 tsp of Truly Teas Ceremonial Green Matcha 

1 tbsp hot water 

2 tsp honey, or to taste 

1 cup hot oat milk (you can also use milk or other milk alternatives)
DIRECTIONS:
Add 1 - 1 1/2 tsp of Truly Teas Ceremonial Green Matcha into a mug.
Add tbsp of hot water to the mug and matcha powder and stir together using a small whisk until no lumps remain. 
Add hot oat milk to the matcha mixture, add honey and mix together using a milk frother. See Tips to make the perfect froth. 
Add honey & cinnamon on top of froth (optional) and enjoy!
Tips:
To get the perfect froth I use this milk frother from amazon and its been a game changer! If you like lattes and want to start making your own at home this gadget is heaven! If you decide to go this route I pour the froth on top after I mix the matcha, milk, and honey together. 
Another nice milk frother is a hand held frother that you can also purchase on Amazon. From experience I feel like these just don't give you the thick fluffy froth like the one I listed above, but they do a great job whisking everything together! 
---