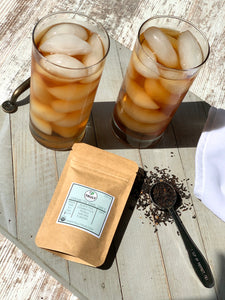 Crème de Earl Grey Iced Tea
A delicious classic Earl Grey tea turned into an Iced cold dessert! Our Crème de Earl Grey tea makes the perfect iced tea on a hot sunny day! Naturally sweet with no added sugars you'll wonder why you never tried this sooner. We made our iced tea by steeping it overnight using our Simple Overnight Iced Tea recipe. 
Here's what you'll need:
5 tea bags or 5 tsp of Truly Teas Crème de Earl Grey tea
5 cups water
Ice
DIRECTIONS
Fill pitcher with room temperature water.
Place the 5 tsp or 5 tsp of Crème de Earl Grey tea in an infuser inside the pitcher. The amount of tea all depends on your desired tea strength. The more tea you add, the stronger the tea.
Place Pitcher in refrigerator over night for 7-8 hours. 
In the morning, remove tea and stir.
Pour over ice and enjoy! 
You can easily add our Crème de Earl Grey to your cart by clicking the links below. 
---