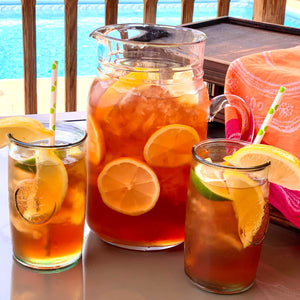 Iced Earl Grey
Our Iced Earl Grey tea recipe is refreshing and delicious on a hot summer day! This iced tea is filled with flavor and a guest pleaser for get small get togethers and large party's! 
Here's what you'll need:
5 cups water
Ice
5 tea bags or 5 tsp of Truly Teas Earl Grey tea
2 lemons plus extra for garnish
2 limes for garnish (if desired)
Sugar to taste (if desired)
Sparkling water (if desired)
DIRECTIONS
In a medium saucepan, bring the water to a boil over medium-high heat. Add the tea bags and lemon slices. Let the mixture cool to room temperature for about 1 hour.
Remove the tea bags and discard.
Pour tea mixture into an ice filled pitcher and add sugar & limes if desired.
Pour into glasses then top with a splash of sparkling water and add limes and lemons for garnish and enjoy!
You can easily add our

 

Earl Grey tea to your cart by clicking the link below.
 Happy Steeping!
---