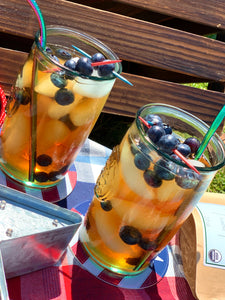 Blueberry Sweet Tea

Make this years 4th of July sweet with our Wild Blueberry sweet tea recipe! Your taste buds will truly love its fruity flavor. Loaded with antioxidants and immunity boosting properties from a mixture of black tea and elderberry, it's just what you'll need for this year's 4th of July celebration.
Here's what you'll need:
6 tsp or 6 teabags of Truly Teas Wild Blueberry tea (I added an extra tsp for extra flavor.)
10 cups of water (this may vary depending on the size of your pitcher)
Sugar or honey to taste (you can add the sugar and honey in last and measure it to your taste preference.)
Ice
Blueberries 
DIRECTIONS
We made our Blueberry tea overnight using our Simple Overnight Iced Tea recipe but you can also make it by using our Favorite Sun Tea recipe.
After the tea has steeped add sugar or honey to taste.
Add ice.
Add blueberries for garnish & enjoy!
You can easily add our Wild Blueberry tea and or our Organic Honey to your cart by clicking the link below. 
Tips:
You can add less or more tea depending on how strong you want your iced tea to be. Be careful with this tip because if you add too much your tea can become bitter. 
---