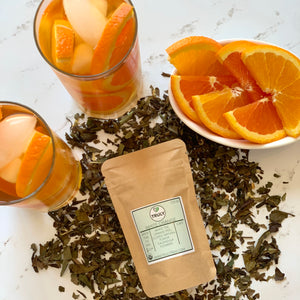 Orange Iced Tea
Oranges are my favorite! When we decided to carry a tea that has essences of oranges I knew exactly what to make for the long Labor Day weekend! This tea is easy to make and you can make it overnight so it's cold and ready in the morning. You won't be able to put our Orange Iced Tea down! 
Here's what you'll need:
1 pitcher
10-12 cups of room temperature water (cups of water may vary depending on the size of your pitcher).
6 tea bags or 6 tps of our White Orange tea (you can increase the amount of tea to your desired strength). 
2 oranges (1 for garnish and 1 for infusing).
DIRECTIONS
Fill pitcher with room temperature water.
Place tea bags or loose leaf tea in an infuser inside the pitcher. 
Place Pitcher in refrigerator over night for 7-8 hours. 
In the morning, remove tea and stir.
Add oranges to the tea mixture and let set in the refrigerator for 2-3 hours.
Cut up your 2nd orange for garnish and add to your glass.  
Pour over ice and enjoy! 
You can easily add our White Orange tea to your cart by clicking the link below.
Tips: 
Cold brew teas can be kept in the refrigerator for up to 3 days. 
You can add more oranges to increase your orange flavor during the infusion process. 
---