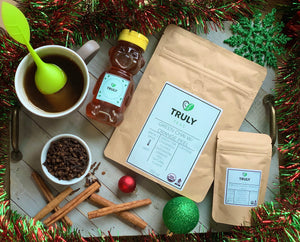 Green Chai Hot Toddy
This Hot Toddy recipe will have your ready for the holidays in no time! Made with our popular Green Chai w/ Orange Peel, our Hot Toddy tea will have you relaxing from the holiday season or soothing a cold. 
Here's what you'll need:
1 teabag of Truly Teas Green Chai w/ Orange Peel tea
1 cup of water
1 cinnamon stick (optional)
1 tsp of Truly Teas Honey (optional) 
1-2 ounces of brandy (or dark Rum, or whiskey)
1 lemon wedge 
Directions:
Boil water to 180°F 
Put 1 teabag in a cup with water 
Steep tea for 3 mins (do not over steep depending on the strength desired from the tea)
Stir in Truly Teas Honey 
Float brandy, rum, or whiskey on the top of the tea with a spoon. Check out this YouTube video if you're not sure how: https://www.youtube.com/watch?v=gorjMLp8_cg
Squeeze the lemon wedge into the tea (optional: put the remaining lemon wedge into your cup for a stronger citrus flavor.)
You can easily add our Green Chai w/ Orange Peel by clicking the link below!
Happy Steeping!
---